21st May 2018
Glasgow International Programme has been added to Gala Page
16th May 2018
Eligible swimmers for Bellshill Summer Splash Meet have been added to Gala Page.
Accepted swims for Rutherglen Rascals has been added to Gala Page.
13th May 2018
Attention all members: Please update your personal details and Socittish Swimming mobile phone policy, before Wednesdsay 23th May.  Forms will be available at the desk from Wednesday 16th May 2018.  Thanks in advance.
Dates for your Diary
Bellshill Sharks Summer Splash - 23rd and 24th June 2018.  Help required to make the gala a great success (Referee, Judges, Timekeepers, Marshals,programmes, tea table, raffles and runners. Names can be given at the desk.
Climb Mount Everest - 10th August 2018. More information to follow, sponsor climb.
50th Aniversary Celebration - 27th October 2018, Hilton Bellshill, Tickets £30 More information to follow.
24th April 2018
News Paper article for Cumbernauld, Glasgow and Falikirk has been added to the Documents Page (under the news tab)
10th April 2018
National Squad selection Policy 2018-19 has been added to the Documents Page
26th February 2018
Any swimmers from A & B Squad wishing to compete in the Teaspoons this year in Sheffield on the 21st - 23rd September should gives names at the desk on Wednesday night.
11th February 2018
What an absolutely fabulous weekend at the Bellshill Sharks Open Meet 2018!!! Great swims, loads of pb's and even some records broken.  A massive thank you to everyone who helped this meet be a success from Coaches, Committe member, officials and parent helpers without your continuous support this would never have happened.  Many of our visiting officials, competing clubs and spectators commented on how well they were welcomed and hospitality shown was seconded to none.  Once again thank you all so much.
23rd January 2018
TWEET From Scottish Swimmming
Great news for #Bellshill and @nlleisure as @AscSharks are awarded #SwiMarkPlus during the club's 50th Anniversary year with the award being presented to #RubyFlanigan - Well done all!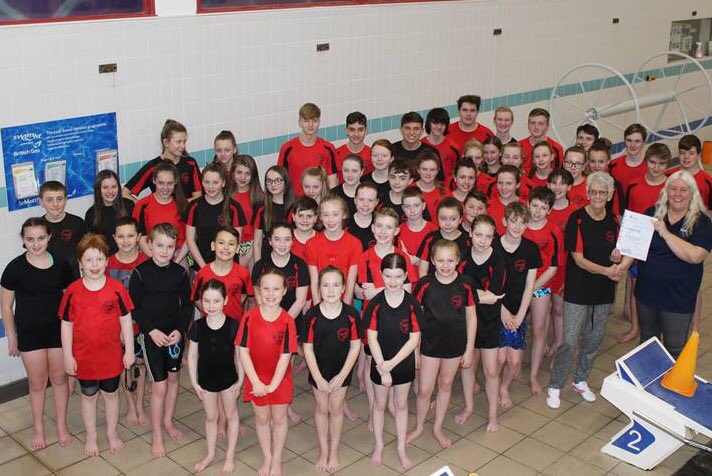 4th January 2018
The competition calendar has been updated with all the dates and locations of competitions in 2018 leading up to the summer break
21st August 2016
Check out the link below for "THE FOOD CHAMPIONS"
Scottish Swimming Policy
Scottish swimming have asked that every swimming club issue the acceptable use of mobile phone policy to all swimmers.  This policy requires completion by each swimmer.  The policy will be issued at the desk on Wednesday 6th June 2016, it should be completed, signed and returned as soon as possible.  A copy of the policy can be found on the Documents page.
Parent/Guardian Responsiblities
Arrival for Training
Always check when you drop your child of that the pool is available and open for training. Emergency and facility failure can occur at short notice. The Coaches are NOT responsible for the swimmer prior to or after training sessions. If you think you will be late for picking up your child after training session please phone the Sports Centre and ask that a message is passed on to the coaching staff.
During Training or Gala/Competition
Please inform Coach of any information regarding your child i.e. Injuries/Medical changes prior to their training session.
Do NOT distract the coach during a training session.
Do NOT coach your child from the spectator's gallery.
Sessions are planned for different aspects of training, with any interruptions to the session undermining the authority of the Coach. If you wish to speak to the Coach please do so at the end of the session.
Fundraising
Lorna Carlyle is responsible for fundraising along with a small group of parents. We are open to suggestions for fundraising within our club. .