6th November 2018
Our mobile phone is currently out of contract any inquiries please email: info@bellshillsharksasc.co.uk hopefully we will have a knew up and running again by the weekend. Sorry for any inconvience.
11th November 2018
Club champs begin on ednessday 14th November.  All swimmers should be at the pool for 6pm, for a 6.30pm warm up.  swimmer should bring a drink and something to eat, pollshoes for going up and down to the pool, T-shirt and towel.
Thank you to everyone who has already volunteered to help but any other parent/carer who can still help please make yourself know to a member of the committee on the night.
Any donations of raffle prizes for the two heat nights and the dance will be greatly appreciated.
Looking forward to seeing everyone cheering on our swimmers.
12th November 2018
Accepted swims for Junior WD and Dumfies have been added to Gala Page.
1st November 2018
Date for Club Championships have now been confirmed:
Heats 14th & 21st November
Finals 28th November & 12 December
Date for Presentation Dance is Saturday 5th January 2019.
15th October 2018
Payment for swims
Please be advised that when Sharks swimmers are entered in a gala the club has to pay the host club in full and up front for all the events that each swimmer has chosen to compete in.
When the list of accepted swims is published we are then informed of swimmers that have been scratched from any events. The club will receive a full refund for any scratched swims and we would not expect anyone to pay for a scratched swim. All other swims (including reserve swims) are then due to be paid for.
If a swimmer has a reserve swim then the expectation is that the swimmer will attend the gala. If the swimmer doesn't get the reserve swim for any reason then the club will receive a full refund for that swim. If the swimmer gets the reserve swim or fails to turn up for that event then the refund will not be due back to the club.
Attending galas is the biggest single external expense that the club has and it is vital that all payments are received within a reasonable timeframe. If anyone is ever unsure about what they are due to pay for any events you can get details at the desk every Wednesday night. If you are unable to attend on a Wednesday please contact treasurer@bellshillsharksasc.co.uk and we will supply the details.
GALA INFORMATION
24th October 2018
Eligible swims for Junior WD, Dumfries and Cumbernauld have been added to Gala Page.
15th October 2018
Accepted swims for West District and REN96 have been added to Gala page.
4th October 2018
Accepted swims for Alloa Graded Meet have been added to Gala page.
26th September 2018
Accepted swims for Boness and Rurtherglen have been added to Gala page.
24th September 2018
Eligible swims for WD Senior Age Group has been added to Gala page.
15th September 2018
Eligible swims for Ren96 has been added to Gala page.
29th August 2018
Eligible swims for JAGS and M&B have been added to Gala Page.
29th May 2018
News Paper article for SNAGS has been added to the Documents Page (under the news tab)
10th April 2018
National Squad selection Policy 2018-19 has been added to the Documents Page
23rd January 2018
TWEET From Scottish Swimmming
Great news for #Bellshill and @nlleisure as @AscSharks are awarded #SwiMarkPlus during the club's 50th Anniversary year with the award being presented to #RubyFlanigan - Well done all!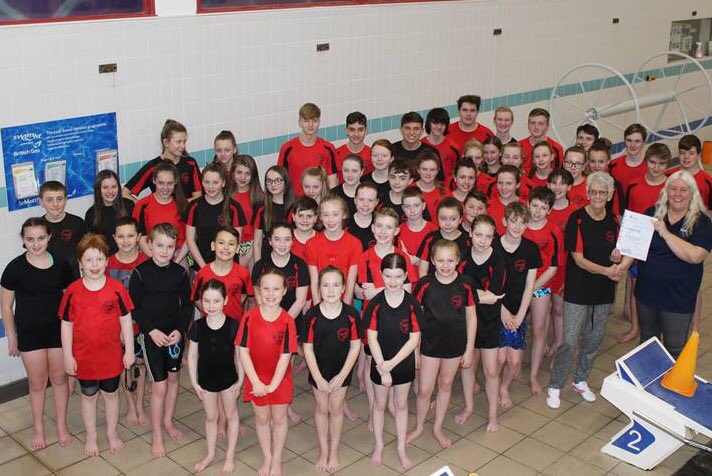 4th January 2018
The competition calendar has been updated with all the dates and locations of competitions in 2018 leading up to the summer break
21st August 2016
Check out the link below for "THE FOOD CHAMPIONS"
Scottish Swimming Policy
Scottish swimming have asked that every swimming club issue the acceptable use of mobile phone policy to all swimmers.  This policy requires completion by each swimmer.  The policy will be issued at the desk on Wednesday 6th June 2016, it should be completed, signed and returned as soon as possible.  A copy of the policy can be found on the Documents page.
Parent/Guardian Responsiblities
Arrival for Training
Always check when you drop your child of that the pool is available and open for training. Emergency and facility failure can occur at short notice. The Coaches are NOT responsible for the swimmer prior to or after training sessions. If you think you will be late for picking up your child after training session please phone the Sports Centre and ask that a message is passed on to the coaching staff.
During Training or Gala/Competition
Please inform Coach of any information regarding your child i.e. Injuries/Medical changes prior to their training session.
Do NOT distract the coach during a training session.
Do NOT coach your child from the spectator's gallery.
Sessions are planned for different aspects of training, with any interruptions to the session undermining the authority of the Coach. If you wish to speak to the Coach please do so at the end of the session.
Fundraising
Lorna Carlyle is responsible for fundraising along with a small group of parents. We are open to suggestions for fundraising within our club. .