22nd March 2018
There will be no Long Course training for JE on Saturday 24th & 31st March 2018.
Snags & Easter Plan

 
 
 

Friday 23/3/18

AM & PM Sessions as normal

Saturday 24/3/18

No Training

Sunday 25/3/18

Training on as normal

Monday 26/3/18

Training on as normal

Tuesday 27/3/18

Training on as normal

Wednesday 28/3/18

Training on as normal

Thursday 29/3/18

Training on as normal

Friday 30/3/18

All squads in AM (including B Squad) - PM Cancelled

Saturday 31/3/18

No Training

Sunday 1/4/18

 

No Land Training

B  squad in 6-7pm

JE, A  squads in 6-8pm

Monday 2/4/18

All Training off

Tuesday 3/4/18

Training on as normal

Wednesday 4/4/18

Training on as normal

Thursday 5/4/18

Training on as normal

Friday 6/4/18

Training on as normal
19th March 2018
Accepted swims for Scottish National Age Group Championships and COGST have been added to Gala Page.
14th March 2018
Eligible swimmers for BITW has been added to the Gala Page
Accepted swims for Falkirk Otters has been added to Gala Page
5th March 2018
The Committee for 2018 has been updated.
Eligible swims for Dumfies Spring Graded and IM Tough have been added to the Gala page.
26th February 2018
Any swimmers from A & B Squad wishing to compete in the Teaspoons this year in Sheffield on the 21st - 23rd September should gives names at the desk on Wednesday night.
21st February 2018
EK Open meet has been added to gala page
11th February 2018
What an absolutely fabulous weekend at the Bellshill Sharks Open Meet 2018!!! Great swims, loads of pb's and even some records broken.  A massive thank you to everyone who helped this meet be a success from Coaches, Committe member, officials and parent helpers without your continuous support this would never have happened.  Many of our visiting officials, competing clubs and spectators commented on how well they were welcomed and hospitality shown was seconded to none.  Once again thank you all so much.
31st January 2018
Dates for Long Course have been added to Training Times.
We will holding a gala on Friday 9th February for C and B Squad and any A Squad who did not enter the Sharks Open Meet.  The Gala will run from 7pm (be in the balcony for 6pm) and finish at approximately 9pm.  There will be a sign in sheet at the desk for the next 2 Wednesdays if you you could please put your childs name down if they are able to attend.
23rd January 2018
TWEET From Scottish Swimmming
Great news for #Bellshill and @nlleisure as @AscSharks are awarded #SwiMarkPlus during the club's 50th Anniversary year with the award being presented to #RubyFlanigan - Well done all!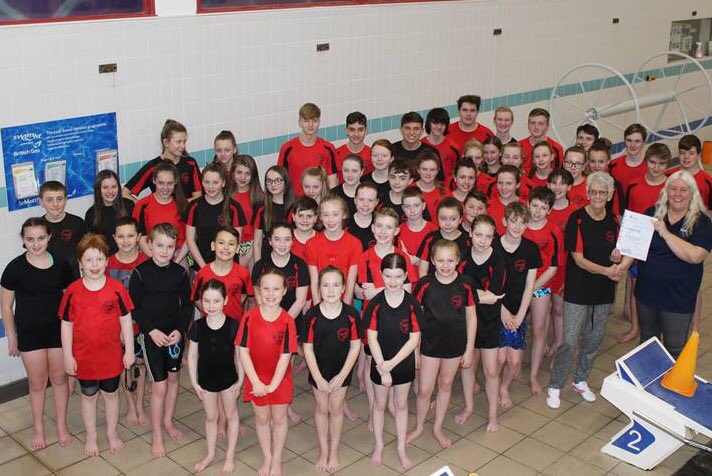 4th January 2018
The competition calendar has been updated with all the dates and locations of competitions in 2018 leading up to the summer break
21st August 2016
Check out the link below for "THE FOOD CHAMPIONS"
Scottish Swimming Policy
Scottish swimming have asked that every swimming club issue the acceptable use of mobile phone policy to all swimmers.  This policy requires completion by each swimmer.  The policy will be issued at the desk on Wednesday 6th June 2016, it should be completed, signed and returned as soon as possible.  A copy of the policy can be found on the Documents page.
23rd June 2016
Bellshill Sharks would like to thank Ideal356 for their generous donation for the Swimmers heading to Sheffield in September.
Parent/Guardian Responsiblities
Arrival for Training
Always check when you drop your child of that the pool is available and open for training. Emergency and facility failure can occur at short notice. The Coaches are NOT responsible for the swimmer prior to or after training sessions. If you think you will be late for picking up your child after training session please phone the Sports Centre and ask that a message is passed on to the coaching staff.
During Training or Gala/Competition
Please inform Coach of any information regarding your child i.e. Injuries/Medical changes prior to their training session.
Do NOT distract the coach during a training session.
Do NOT coach your child from the spectator's gallery.
Sessions are planned for different aspects of training, with any interruptions to the session undermining the authority of the Coach. If you wish to speak to the Coach please do so at the end of the session.
Fundraising
Angela Reilly, Ann Marie Carroll and Julie Cole are responsible for fundraising. We are open to suggestions for fundraising within our club. .
Shop Online and Raise Funds
easyfundraising.org.uk is a shopping directory listing some of your favourite online stores including Amazon, NEXT, Debenhams, John Lewis, Toys R Us, HMV and over 500 others. Just use the links on the easyfundraising site whenever you shop online and, at no extra cost to you, we'll receive a free donation of up to 15% from every purchase you make. It really is that simple!
1. To start please Register so easyfundraising know which cause you want to support. Just click the linkhttp://www.easyfundraising.org.uk/causes/bsasc/
2. Next, login using your username / password. This is how the system recognises who you are and which cause benefits when you make purchases.
3. Finally, click any of the retailer links provided and then shop just as you would normally.
That's all you need to do - apart from remembering to return to the easyfundraising site and login next time you are going to shop online!!
Providing you login and use the retailer links provided easyfundraising will track all your transactions and pay the club the appropriate donations. These will then be displayed in your easyfundraising account (which you can access online).
All these shops and more are helping our club by donating money every time you shop. DON'T FORGET TO USE OUR LINK NEXT TIME YOU SHOP ONLINE.